Career Assessment
Congratulations on your decision to attend MCTC! Completing this career assessment will help to ensure that you are on the correct path to career field that will provide a better life for you and your family.
Another resource you can review is Career Edge for information on topics from Getting to Know Yourself to Work Life Balance.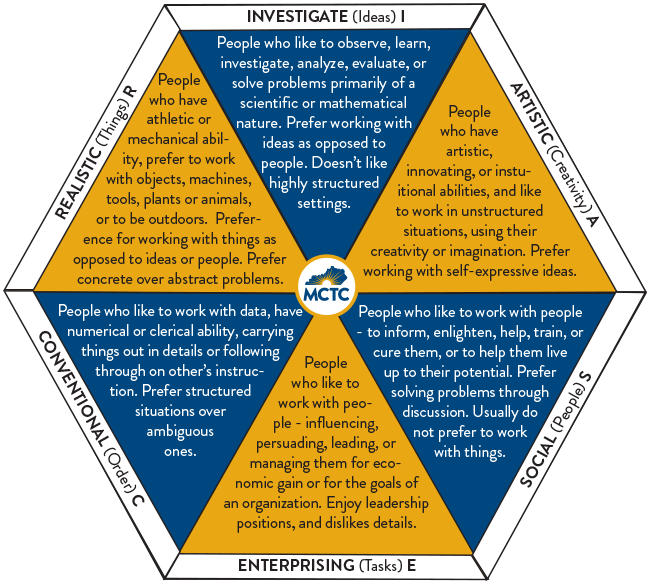 Indicate your career traits by rank order (use letter):
Choice 1 _____ Choice 2 _____ Choice 3 _____
ONet Interest Profiler https://www.mynextmove.org/explore/ip
Choice 1 _____ Choice 2 _____ Choice 3 _____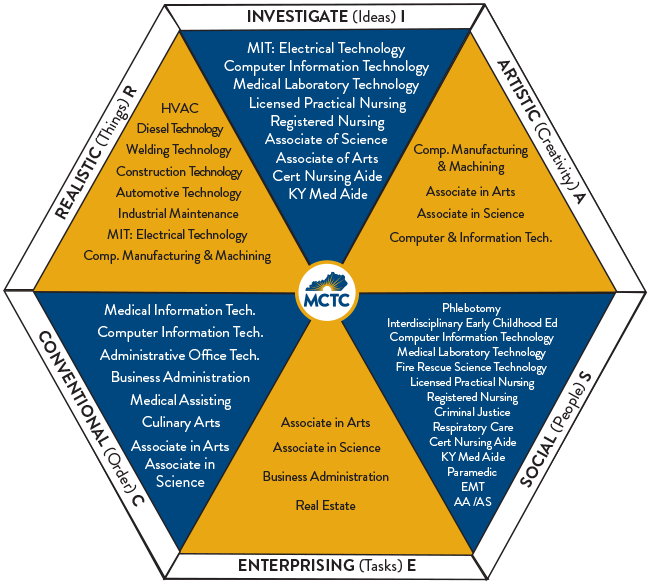 MCTC Programs of study related to Your Traits/Interests
CAREERS TO CONSIDER:
REALISTIC – Skilled trades such as carpenter, plumber; cook or chef, drafter, firefighter, HVAC, machine operator, sound technician, industrial arts teacher, truck driver, radiology tech, equipment repair, renewable energy technician, turf or golf course management, pilot, dental hygienist/assistant, landscaping.

INVESTIGATIVE – other health science, including doctor, dentist, psychiatrist, veterinarian, audiologist, optometrist; lab scientist, chemist, biologist, forensic science technician, mathematician, pharmacist, psychologist, science teacher, zoologist, anthropologist, chiropractor, meteorologist, botanist, research analyst, oceanographer, geologist, astronomer, physicist, librarian, historian.

ARTISTIC – marketing, advertising, architect, commercial art/graphic design, industrial design, creative writer, critic, curator, dancer,
decorator, director, editor, journalist, entertainer, exhibit designer, video game design, art, music or dance therapy, model, fashion designer, floral designer, landscape architect, illustrator, photographer, singer, travel guide, producer.

SOCIAL – teacher, coach, athletic trainer, health sciences, dietician, deaf interpreter, judge, librarian, banker, personal or home care aide, social and community service manager, social worker, speech pathologist, translator, border patrol agent, counselor/psychologist, hospitality/hotel management, customer service, religious vocations.

ENTERPRISING – manager or supervisor, entrepreneur, inspector, auctioneer, appraiser, arbitrator, athletic director, attorney, banker, education administrator, funeral director, government official, financial institution manager, financial planner, management analyst, politician, real estate agent, sales or sales management, foreign service officer, golf club manager.

CONVENTIONAL – general office work, data entry, economist, banking, billing clerk, budget analyst, computer or business teacher, postal service worker, proofreader, reservations agent, tax preparer, insurance worker, court reporter, medical transcriptionist.