Trade Wars 2023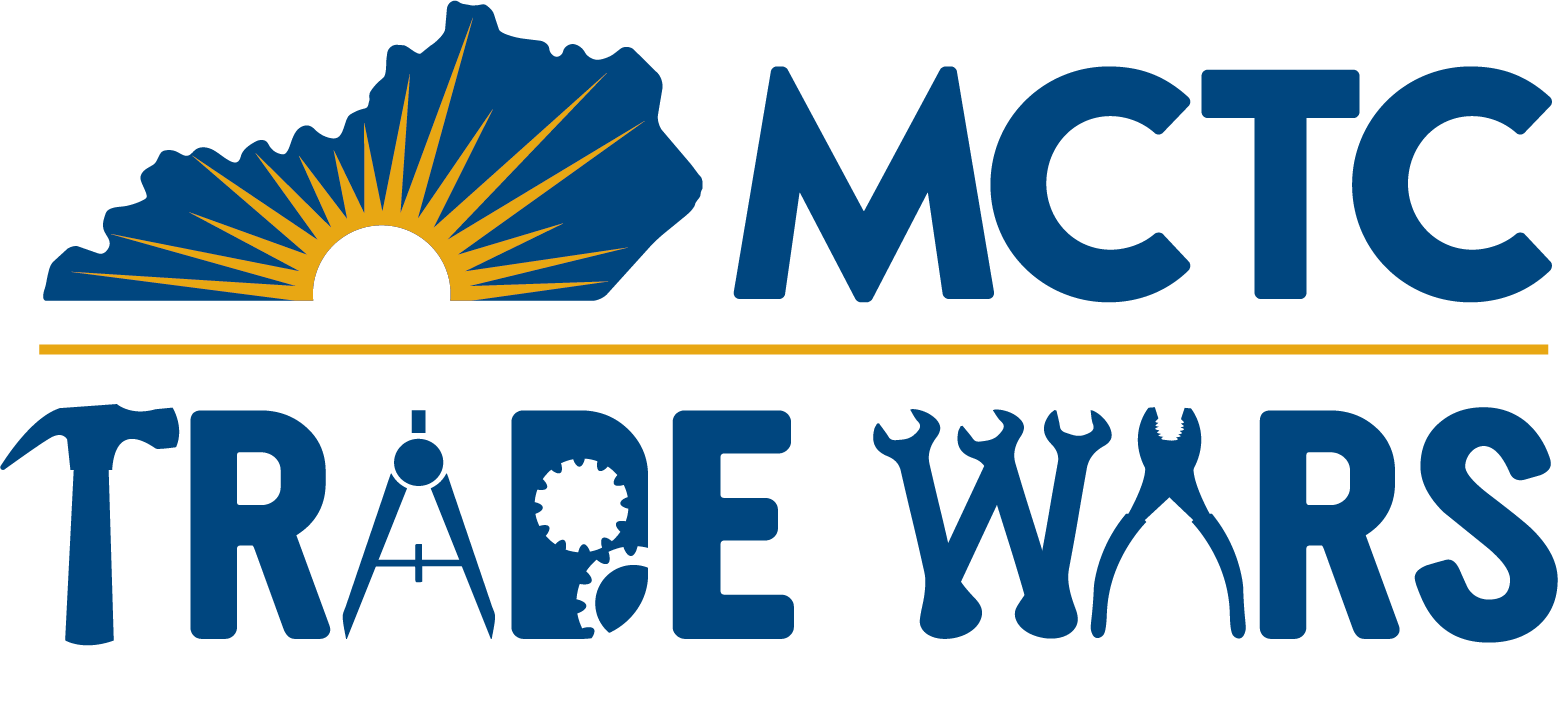 Join us for the 2023 MCTC Trade Wars competition!
April 28 - 9 a.m.
Maysville Community & Technical College
Rowan Campus – Center for Workforce Dev. Bldg.
100 Rocky Adkins Tech Drive – Morehead, KY (MMRC Business Park)
Agenda:
9AM-1PM, Registration, competition & lunch
Competition Categories & Locations:
AIR CONDITIONING TECHNOLOGY
Description of competition 1: Construct and troubleshoot an
electrical control circuit.
Description of competition 2: Brazing competition – students will be
asked to cut, swage, and braze a section of copper tubing.
AUTOMOTIVE TECHNOLOGY
Description of competition: Tire rotation - Teams of 4 will compete
in timed events.
BUSINESS AND INFORMATION TECHNOLOGY
Description of competition: Mock job interviews.
COMPUTERIZED MANUFACTURING &
MACHINING TECHNOLOGY
Description of competition: 1. Engine lathe project. 2. Indicating vise.
CONSTRUCTION TECHNOLOGY
Description of competition: Stair stringers.
DIESEL TECHNOLOGY
Description of competition: Teams of two will be competing to
remove and install head bolts on 5.9 Cummins diesel engines.
ELECTRICAL TECHNOLOGY
Description of competition: Control device competition.
INDUSTRIAL MAINTENANCE TECHNOLOGY
Description of competition: Wire a simple circuit from a controls
diagram.
PHYSICAL THERAPIST ASSISTANT
Description of competition: Two obstacle courses, one pertaining
to fitting a patient with equipment and one pertaining to
patient safety.
PRACTICAL NURSING & MEDICAL ASSISTING
Description of competition: Teams will compete in a quick recall on medical terminology and face off in a competition of basic nursing skills.
RESPIRATORY CARE
Description of competition: Medical scavenger hunt.
WELDING TECHNOLOGY
Description of competition: Timed tee joint, tee and lap joint,
and 6-inch pipe welding.
WORKFORCE SOLUTIONS
Description of competition: CDL driving simulator.
School Entry Form
The official entry deadline has past.
Late entries may contact Natalee Brown about any remaining spots at natalee.roth@kctcs.edu or by calling 859-499-6282 ext. 66503.
All participants are required to complete KCTCS waiver before participating in any competition

Participating Schools are asked to provide 2 chaperones per 50 student attendees

Limited bus parking is available on campus

Limited non-competitor spectator space will be be available (Priority will be given to senior class members)
Sponsorship Opportunities Available
For More Information Contact:
Cara Clarke 606-759-7141 ext. 66176
Businesses and organizations that want to participate in MCTC Trade Wars should complete the request form below before Friday, March 10. Space is limited.