Traditional Bank makes $25k commitment to MCTC welding
September 14, 2023
by Megan Smedley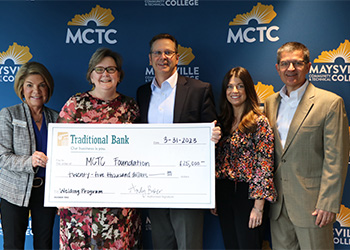 Maysville Community and Technical College (MCTC) is pleased to announce a three-year pledge of $25,000 from Traditional Bank in Mt. Sterling in support of the Montgomery Campus welding lab renovations project.
Their first payment of $8,333.33 was made in March 2023.
MCTC, with help from the Gateway ADD, is applying for a $1.3 million dollar grant requiring a 20% match of $265,000. The Traditional Bank pledge was applied against the match.
"As a local bank that has served this community for over 120 years, we are passionate about creating sound economic opportunities for Montgomery County and its citizens," said Richard Fuller, Traditional Bank Senior Vice President. "The chance to partner with MCTC on the welding program was a perfect fit for our bank's mission, and we are extremely proud to show our commitment to our local community with this donation."
Rebecca Morton, Director of Work-Based Learning and Montgomery Campus Director, says this donation supports the college's commitment to meeting the needs of the community.
"This generous contribution from Traditional Bank puts the Montgomery Campus one step closer to providing a top-rate welding program for students in this region," she said. "We value our longstanding partnership with Traditional Bank and appreciate their willingness to invest in the college, local industry, and the community."
MCTC currently offers welding courses at its Licking Valley, Maysville, and Rowan campuses and is still seeking funding to help match the grant.
Those interested in contributing can contact Cara Clarke by emailing cara.clarke@kctcs.edu.