MCTC Recognized as one of the Best Places to Work in Kentucky
March 17, 2023
by Brady Shultz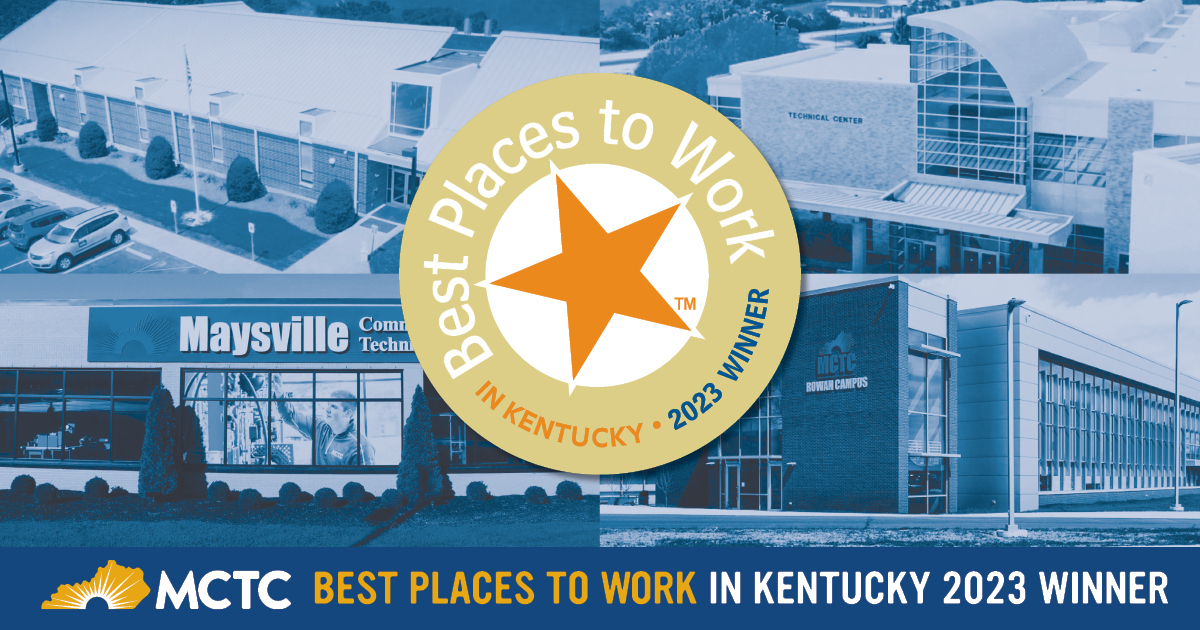 Maysville Community and Technical College (MCTC) has been designated as one of the "Best Places to Work in Kentucky" by the Kentucky Chamber of Commerce, the Kentucky Society for Human Resource Management (KYSHRM) and ClearPath Mutual Insurance Company.
The selection process is based on assessing the company's employee policies and procedures and the results of an internal employee survey. For more details about Best Places to Work in Kentucky, visit www.bestplacestoworkkentucky.com.
When applying for the honor, MCTC noted its transformational culture where employees and students alike can experience a sense of belonging while being empowered to reach their greatest potential. The recent additions of more flexible working schedules as well as regular employee recognition efforts were also discussed in pursuit of the award.
"MCTC is such a special place," states Dr. Laura McCullough, MCTC President and CEO. "We are incredibly proud of our team, the work they do, and their commitment to our students, our institution and the communities we serve."
MCTC Director of Human Resources, Amanda Conley noted that this was the first time the college has applied for this recognition. "We were thrilled when we learned we had made the list," says Conley. "We want to thank everyone on Team MCTC for fully supporting the Best Places initiative. We all knew MCTC was a great place to work, now we can celebrate the formal recognition!"
The Best Places to Work winners were divided into small, medium, and large businesses – 15 to 149 employees, 150 to 499 employees and 500 employees or more, respectively, according to a news release from the Kentucky Chamber of Commerce. MCTC is among 30 companies recognized in the 150 to 499 employee category.
The competition is a multi-year initiative designed to motivate companies in the Commonwealth to focus, measure and move their workplace environments toward excellence.
One hundred companies across the state made the 19th Annual Best Places to Work in Kentucky. The winner rankings will be announced at an awards dinner Thursday, June 8, 2023, at the Central Bank Center in Lexington.
For a complete list of the 100 businesses chosen for this designation, visit the Kentucky Chamber Bottom Line News site.