MCTC named Large Business of the Year by Maysville Area Chamber
September 15, 2023
by Megan Smedley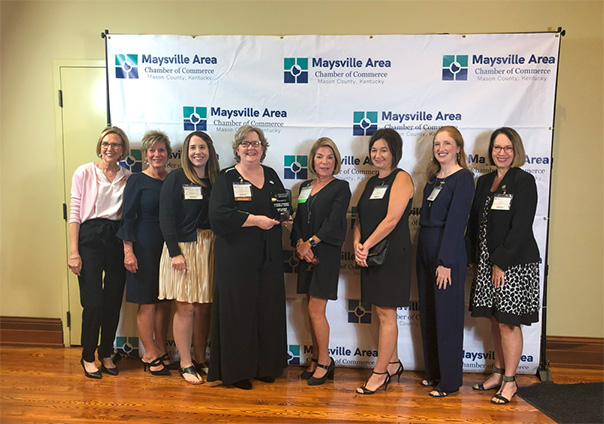 Maysville Community and Technical College (MCTC) was honored with the 2023 Large Business of the Year Award by the Maysville Area Chamber of Commerce at their annual Chamber Awards Dinner.
The ceremony was held at the Cox Building in downtown Maysville on Thursday evening.
The winners of the Chamber's New Business, Small Business, Large Business, and Non-Profit of the Year awards are selected by the community based on nominations the Chamber receives.
"We were honored to even be nominated for the Large Business of the Year award, so to win makes us very proud," said Dr. Laura McCullough, MCTC President/CEO. "We are so thankful for the support of the community we so happily serve."
MCTC was nominated for the award by a parent of one of MCTC's alumni.
"We are so blessed to have this outstanding college in our small community," the nomination read. "MCTC has excellent teachers who truly care about the students and are willing to go above and beyond so each student succeeds. The administration is very helpful and knowledgeable and will provide professionalism to all students. I think this community college is a gem and I appreciate everyone there and all those who helped my son while he was there."
Amanda Conley, Dean of Administrative Services, said the hard work of the faculty and staff at MCTC is what makes it possible for MCTC to be recognized for honors like Thursday's award.
"Being selected as the Large Business of the Year is a testament to the great work our employees do each day and the impact that work has on our community," she said.
Also nominated for the award were East Kentucky Power Cooperative, G&J Pepsi Cola Bottlers, Meadowview Regional Medical Center, Mitsubishi Electric, and STOBER Drives.