HVAC techs able to further their education at MCTC through innovative opportunity
November 7, 2023
by Megan Smedley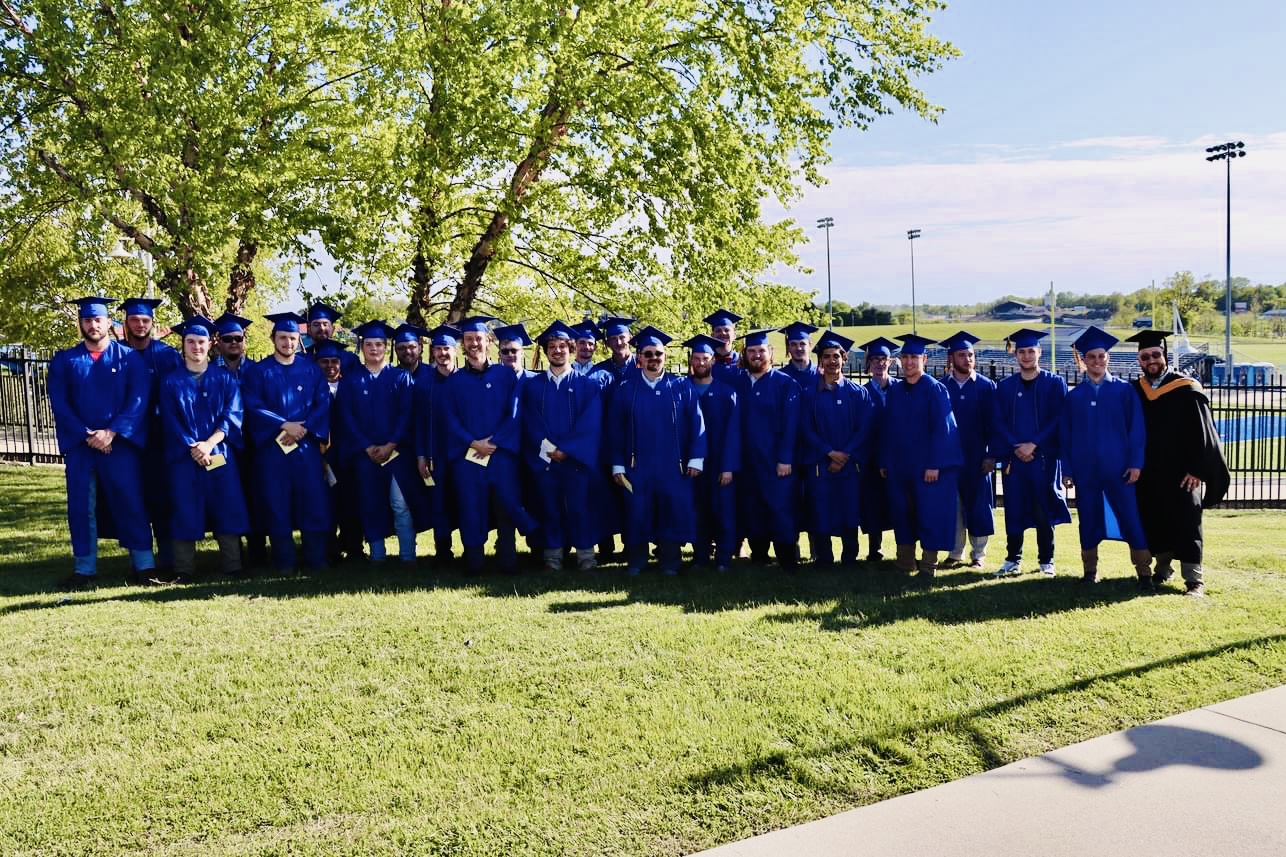 Maysville Community & Technical College (MCTC) is celebrating the success of an opportunity for HVAC technicians in the region to further their education through a partnership with TurnPoint Services.
"Fayette Heating and Air has hired many of my students over the years, but they wanted to provide the same level of training to their current and future employees who had not come through the program at MCTC," said Adam Hawkins, Air Conditioning Technology (HVAC) Associate Professor. "The problem was that the typical schedule of two to four days a week for one to two years simply did not work for their employees to work and go to school because they needed them on the job as much as possible."
Hawkins proposed the idea of creating a custom cohort just for technicians in the field, which would utilize the current curriculum but in a hybrid format that was more competency-based.
"The competencies are covered in a way that is both accelerated and hyper-focused on driving home the basic skills a quality apprentice should possess," Hawkins said. "Skills such as learning to use and read an electrical meter, read schematics, properly use refrigerant gauges, brazing with torches, and many other tasks are repeated until the students are comfortable and capable of repeating it on the job."
The idea was presented to four local companies within the TurnPoint family: Fayette Heating and Air in Lexington, Dauenhauer Plumbing, Heating and Air in Louisville, Maeser Master Services in Louisville, and Greenwell Plumbing, Heating and Air in New Albany Indiana, all of which were on board and provided temporary housing for their employees so they could complete their coursework at the Montgomery Campus.
"By joining forces with MCTC, businesses in the heating, ventilation, and air conditioning industry can tap into a pool of motivated and well-trained students," said Kevin Morris, Senior Vice President at TurnPoint Services. "These students often bring fresh perspectives, cutting-edge knowledge, and a strong work ethic to the workforce."
He added, "Partnering with MCTC can also serve as a proactive approach to addressing the skills gap in the industry, ensuring a steady supply of skilled technicians. It fosters a sense of community and support between businesses and the educational institution, resulting in a win-win situation that strengthens the local economy while offering students hands-on experience and job opportunities."
Due to time restraints and traditional HVAC courses still being in session, an expansion to the HVAC lab electrical system was completed last year to allow the addition of more equipment. The college was also able to utilize another room where all electrical courses are now taught.
"During the TurnPoint weeks, we are running wide-open, with our traditional cohort in one room while our TurnPoint students are in the other. It is a busy week, but I love having a full house," said Hawkins.
To help with the additional workload, a second instructor was needed to facilitate all students in the HVAC program. During the first year, David Hatton, a 2014 alumnus, was brought on to assist with instruction.
Hatton now serves as the Industrial Maintenance Technology program coordinator, which led to bringing in John Winters, another graduate of the program, to help with the instructional load of the program.
"Both of these individuals knew the program and the expectations we hold for ourselves and our students," Hawkins said. "They exhibit a vast knowledge of their discipline but also possess character traits that we want our students to imitate. I was so excited to have such great support and assistance from both of these men."
Tyler Bromagen, an HVAC apprentice at Fayette Heating and Air, said his experience as a student in this year's cohort has been positive.
"I am twenty-seven years old, so I was nervous coming into this program since I had been out of school for so long," he said. "As soon as I arrived at MCTC, I was amazed at how comfortable it felt with small classroom sizes and how everyone made me feel welcome."
Classes are comprised of both online coursework and two weeks of in-person instruction. While on campus, the students are in class five days a week, eight hours a day, just like a typical workday. In addition, the companies continue to pay their employees while they are attending in-person classes, just like they were on the job.
"Work-based learning provides individuals who are already working in the HVAC field a unique opportunity to pair education with experience in real-time," said Hawkins. "The pace we can train these students is phenomenal because they realize the need for the information, understand the relevance of the concepts, and have the opportunity to see their education come to life every day."
In addition to the core technical classes, students complete three general education classes to earn the diploma.
"We have tried to work with faculty to get courses that can be offered to them as a cohort that are relevant to their profession," Hawkins said.
The first cohort of students began in Fall 2022.
Hawkins said all fifteen students from that cohort graduated with certificates and diplomas. Some even earned an AAS degree because they had completed general education courses in the past that we were able to transfer into MCTC.
The students in the cohort also completed EPA 608 testing, a requirement of the Federal Clean Air Act, and 100% received universal certification from the EPA.
In addition, the cohort had a 100% pass rate on the Kentucky HVAC Journeyman Mechanic Exam.
"My experience at MCTC was life-changing," said Elijah Vallejos, a heating and air service technician at Maeser Master Services in Louisville. "I had the best group of teachers I could have asked for. I wouldn't be the heating and air technician or the man I am today without the staff and friends I made along the way."
Hawkins said the second cohort currently has twenty students, and those students have already completed EPA certification with a 100% pass rate.
"These students soak up every ounce of information we give them because they see how it impacts their present and their future. This career and education is what they have chosen to provide for their family right now, so it matters to them because they have skin in the game. We found a way to meet the needs of our local industry partners and fill our classrooms with successful students who will represent us well all across the state and beyond," said Hawkins.