First gen college student earns coveted scholarship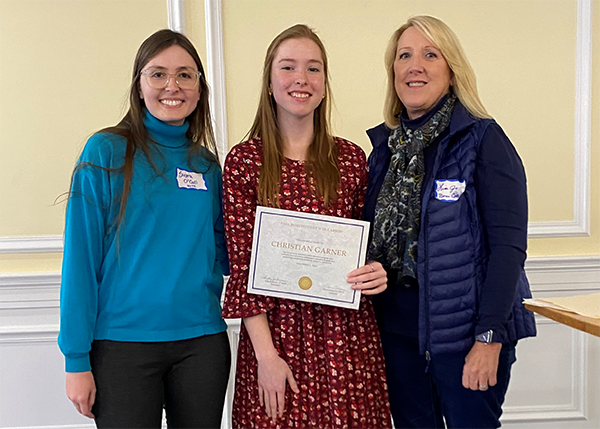 As a first-generation college student, Christian Garner knew she wanted a better life.
She also knew the best chance of having that life began at Maysville Community & Technical College.
Christian graduated from Montgomery County High School in 2021 and originally planned to attend a regional university. However, she decided to instead begin her educational journey at MCTC because of its affordability.
She says coming to MCTC would not only prevent her from going into debt but would provide her with the support she needed to succeed.
"There are so many opportunities at MCTC to start off on a better footing, and the faculty and staff offer such a strong support system," Christian said.
Christian is currently enrolled in the nursing program at MCTC's Montgomery Campus and is set to graduate in May.
She also serves as a tutor and was a student representative for MCTC's Board of Directors. Additionally, Christian works part-time as a CNA at Windsor Care Center.
"As a first-generation college student, Christian has been very conscientious of her decisions regarding higher education," said Sierra O'Cull, MCTC Success Coach. "Her superb work ethic coupled with her service-oriented spirit have made her a campus superstar and role model for many. She is constantly found paving the way for other first-gen students to be successful in college and is often a cheerleader for MCTC."
Christian says she chose nursing because she has always taken care of people. As the oldest of six kids, she wanted a stable career so she could help provide for her siblings and be a positive example for them.
"It was important to me to show my siblings that we can move up in the world," she said. "And even though our parents struggled, we can create our own path."
Christian was awarded the Paul Bush Student Scholarship at the Kentucky Organization for Student Success (KOSS) Annual Conference last Friday.
The Paul Bush Student Scholarship is given to students who demonstrate outstanding academic performance or progress and motivation in overcoming obstacles to educational goals and presenting outstanding service to their school or community.
To begin your path to a better life, visit maysville.kctcs.edu