MCTC Holds 2022 Commencement Ceremonies
May 23, 2022
by Brady Shultz
Maysville Community and Technical College (MCTC) recently held its 2022 commencement ceremonies for each campus of the college.
The events recognized approximately 967 graduates who earned a total of 1909 credentials.
The traditional ceremonies were a return to normal after the college held drive-thru ceremonies the past two years due to the COVID pandemic.
MCTC Interim President Russ Ward opened his remarks with a word of congratulations for the students, "Many of you have spent your entire collegiate career dealing with much more than classes, homework and exams. The pandemic had a monumental impact on our lives, but despite that hurdle, you are here! We are going to celebrate your hard work, resilience and dedication."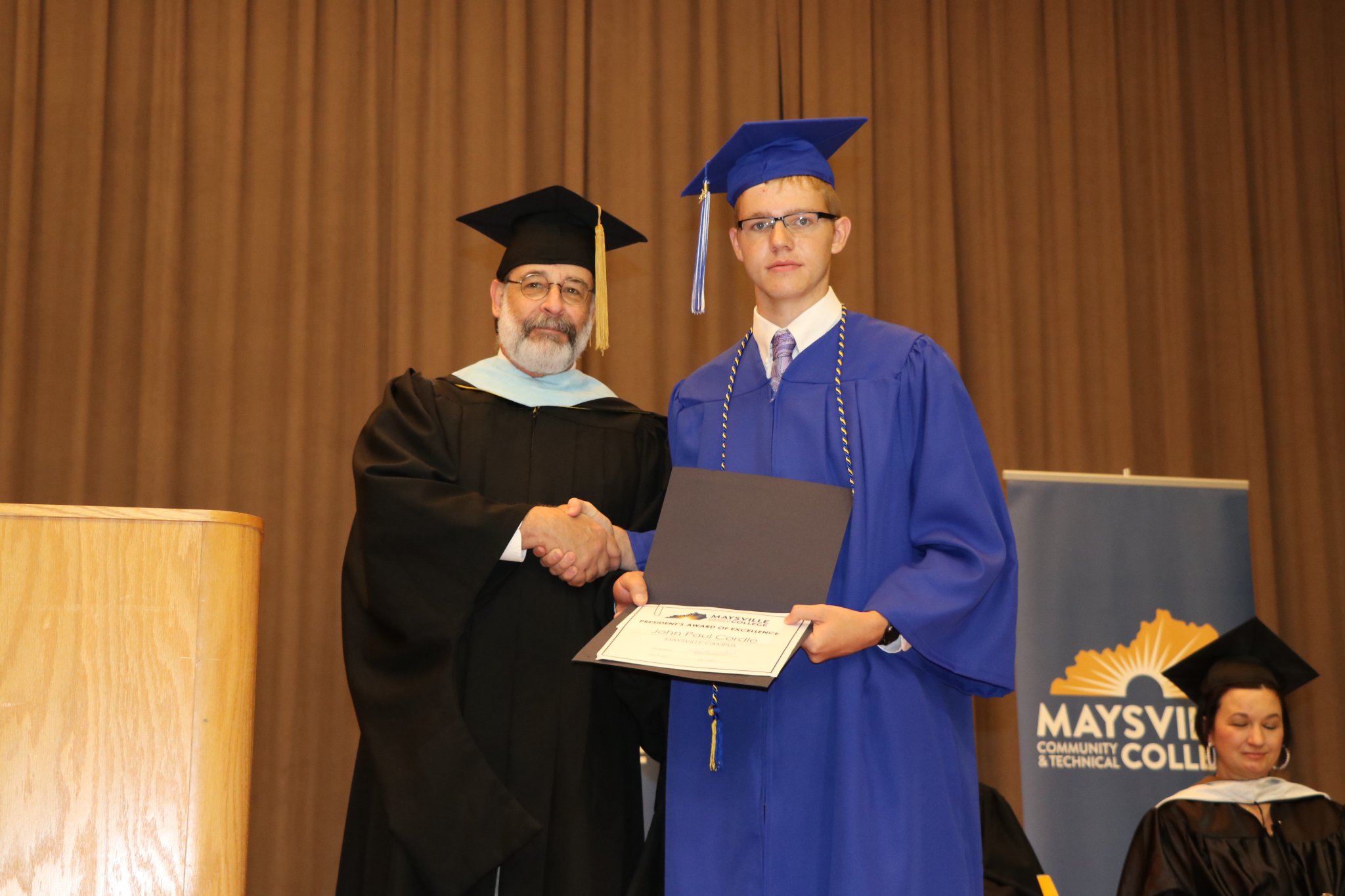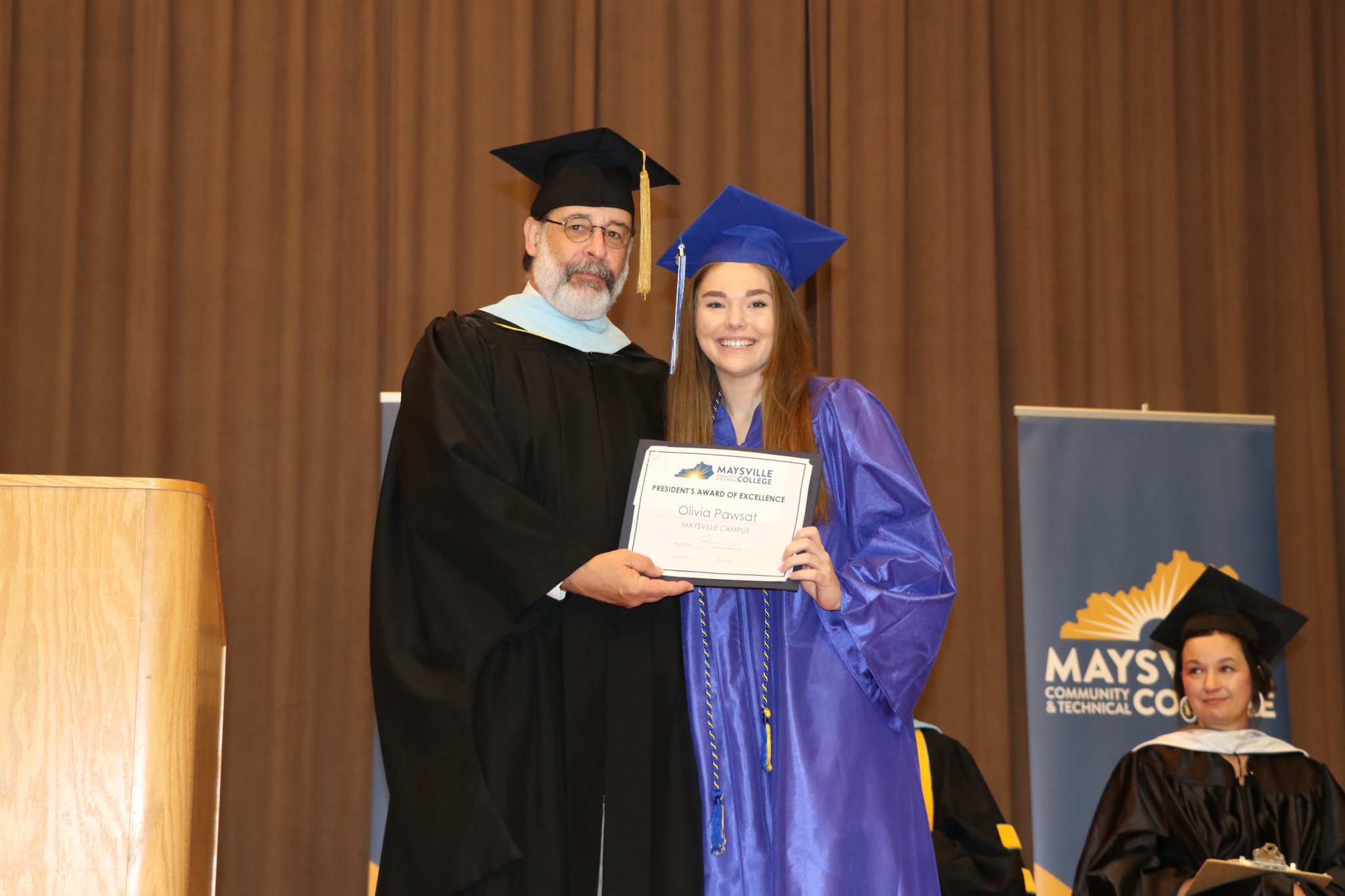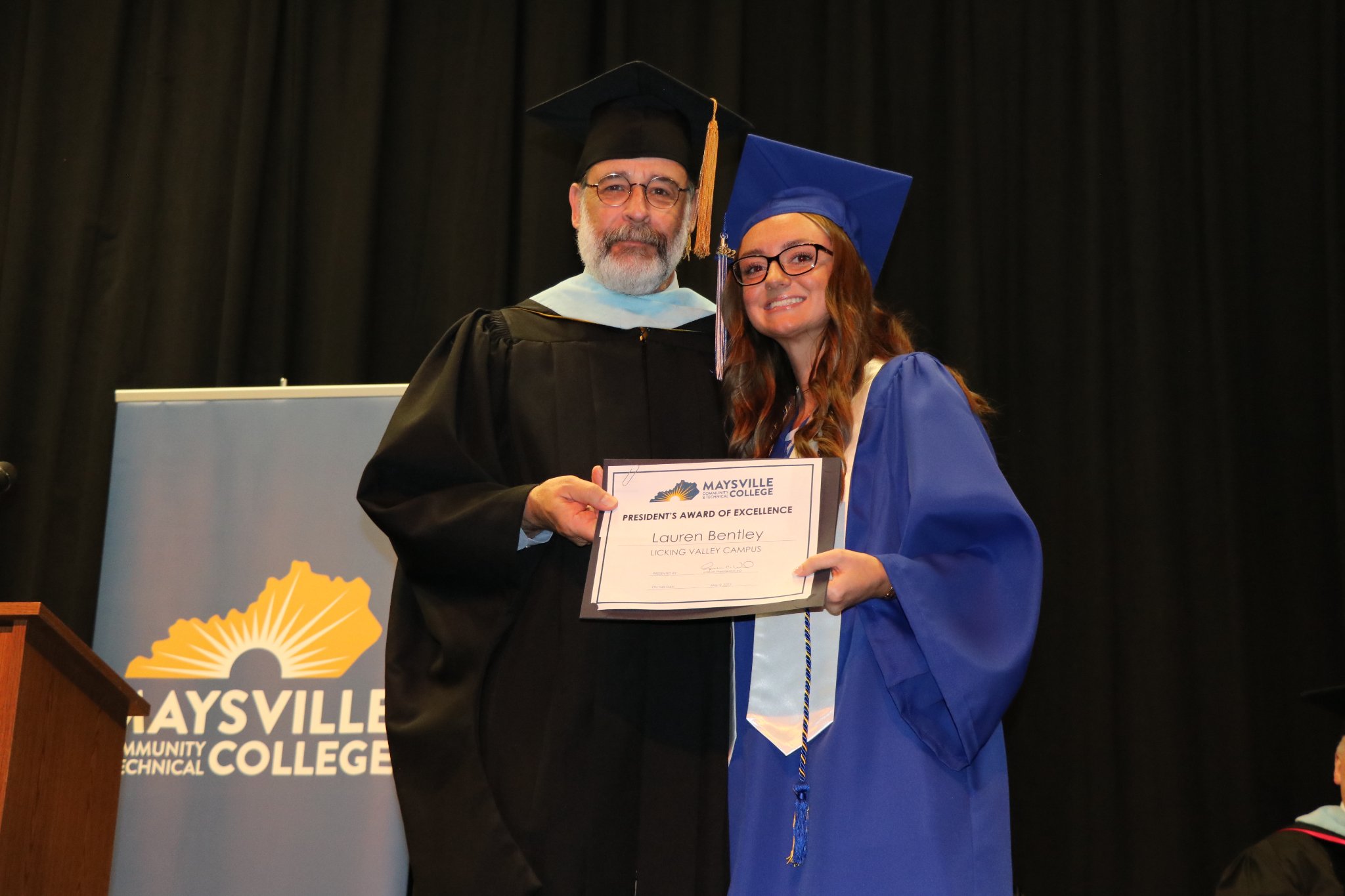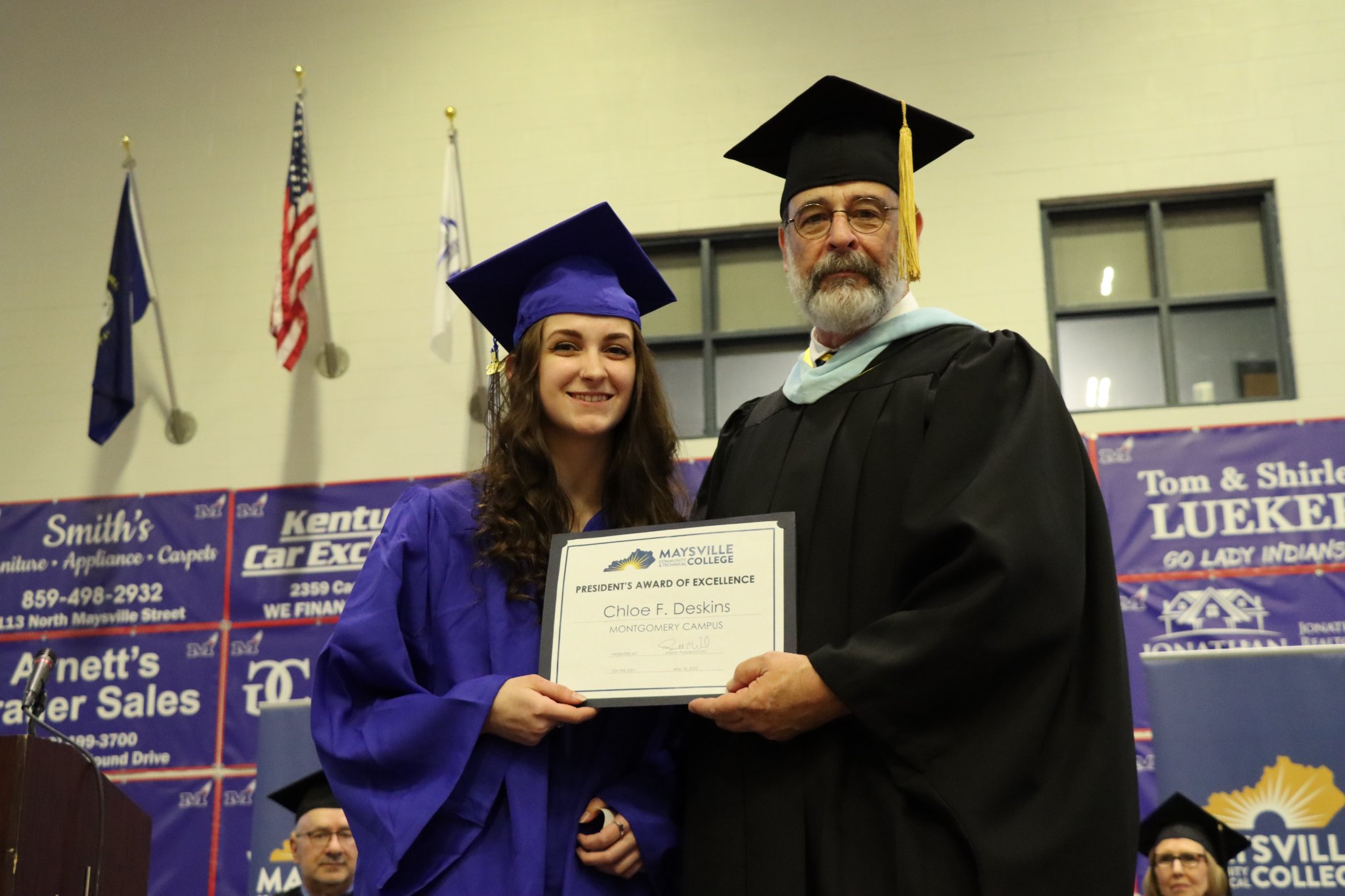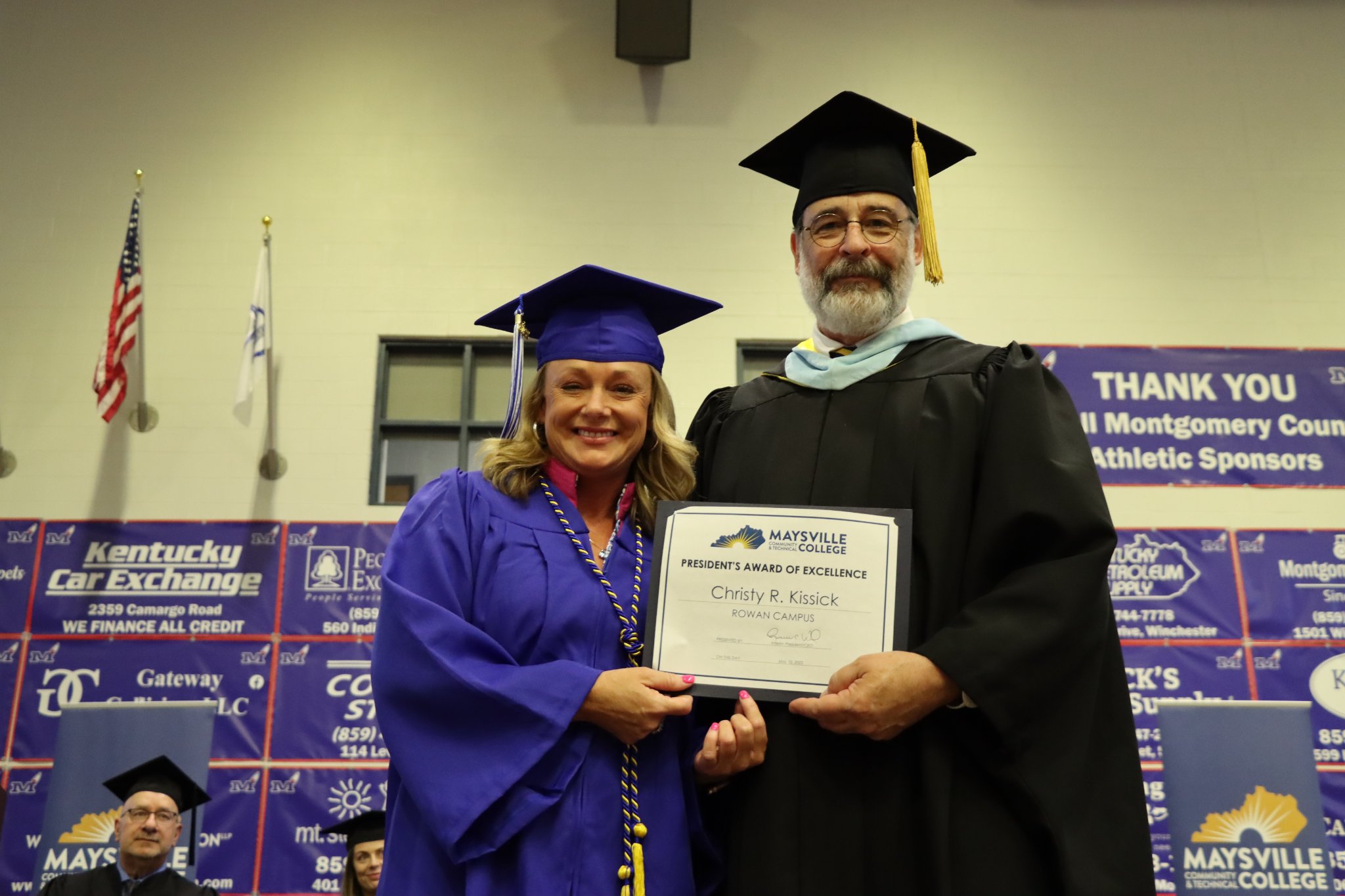 Presidential Awards of Excellence were presented representatives from each campus. John Cordle of Tollesboro and Olivia Pawsat of Maysville were honored for the Maysville Campus. Lauren Bentley of Cynthiana was presented the award for the Licking Valley Campus. Chloe Deskins of Frenchburg and Christy Kissick of Morehead were honored for the Montgomery and Rowan Campuses respectively.
Among those receiving degrees were:
Adams County (OH)
Jerica Wilmoth
Bath County
Latasha Michelle Bartley, Maryah Lee Brown, Robert Austin Clark, James Michael Craig,Felecia Michelle Everman, Kayla Everman, Samual Izac Green, Karricka Dawn Howard, Wetzel Boone Howard, Krista Iker, Carrie Ann McClain, Shellie D McPherson, Lenzie Dawn Metz, Mark Xanthus Osborne, Druscilla Rena Parise, Crystal Fugate Roberson, Benjamin Lee Scaggs, Ashley Jo Shrout, Lyndsey Spence, Samantha Jo Swartz, Kristina Rachelle Terry, Jessica L Whisman, Cody Allen White
Bourbon County
Lori Michelle Frederick, Harley Faye Fryman, Crystal Griggs, Rachel Maria Hanks, William Mccaleb Hanks, Leana Clay King, Jared Wesley Livingood, Amber Nickole Moore, Sierra Gayle Webster, Farah Dawn Wood, Shayla Leah Wood
Bracken County
Samuel Dale Appelman, Makenna Chandlyn Bach, Alicia June Barker, Olivia Grace Bell, Joel Kaine Brumley, Mia Jane Carter, Madelynn Nicole Caudill, Makenleigh Dean Cooper, Scott Austin Crawford, Randi Leigh Dodson, Mallory Elizabeth Downton, Honesty Justus Duncan, Amber L Dusing, Crey Hamilton, Brandon Lewis Hinson, Sidney Fooks Hitch, Sabrina L Johnson, Carson Thomas King, Mason Benson McClanahan, Brooklyn Makenah Sumner, Whitney Woodruff
Breathitt County
Charlie A. Back
Brown County (OH)
Deborah Elaine Andrews, Kari Taylor Davis, Racheal Christine Kendrick, Lisa Marie Marcum, Austin McCormick, Hayden Joseph Reed, Nathan Dale Reed, Amanda Lee Sidwell
Carter County
Karianna Marie Back, Hannah Aubrey Bear, Kamey Blayke Burnett, Roseanna Fultz, Steven Russell Gilliam, Jordan Hayley Holbrook, Kayla Nichols, Michelle Rayburn, Lindsey Kierra Spurlock, Molly Thornsberry, Natalie Raye Vanhoose
Clark County
Danna Haley Ashley, Jackson Thomas Cecil, Shawna Elizabeth Hampton, Noah Anthony Isham, Jordyn Alisa Rhae Slone
Elliott County
Abbi Jo Hale, Keyarin Montgomery, Brianna Caitlin Scarberry
Fayette County
Alyssia Paige Hayes, Haley Perry, Amber Wilson
Fleming County
Morgan Faith Applegate, Kolten Dale Boling, Violet Ann Conrad, Crystal Dawn Cook, Sydney Evelyn Dales, Katelyn Megan Dials, Terry L Dyer, Elizabeth Grace Ellis, Deborah James Emmons, Bridget Fryman, Kristofer Gambill, Jacob Wayne Gardner, Amber Allen Gordley, Bradley James Gray, Austin Allen Gulley, Angela Marie Hardymon, Paula Harris Martin, Brent Humphries, Megan Kirby, Christine Marie Knipp, Brooke Nicole Kouns, Christina Marie Lane, Lacey Marie Lewis, Ashley Leann Litzinger, Martha Ann McLain, Aubrie Ana Montgomery, Shelby Lynn Moran, Katelyn Haley Mullins, Onaconstance Ashley Muse, Maddison Paige Napper, Jason O'daire, Chastine Perkins, Hannah Jane Ramey, Alyssa Reeves, Rebecca Dawn Royse, Madison Sloane Souder, Cindy Ann Stone, Alexis Faith Story, Jordan Clay Story, Brian Allen Vice, Jessica Dawn Wilson
Harrison County
Josh Wesley Baxter, Lauren Elizabeth Bentley, Opal Bills, William Shannon Bond, Autumn Rae Gloria Burgan, Makayla Ri'Dale Carter, Rachel Ann Conley, Lindsay Nicole Cooper, Madelynn Leeann Denniston, Krystal Ann Ewalt, Khrisi Gail Frye, Kelby Ann Gaunce, Whitney Marie Goble, Chrissy Nicole Jones, Kendra Jones, Larry Michael Jones, Hadley Ferguson Kreer, Forrest Tyler Linville, Kayla Mason, Cheryl Anne Mattox, William Kelton Mattox, Jimmie Leigh McIlvain, Kimie Moss, Garrett Riley Mullins, Travis Reed, Heather R Ritchey, Whitley Ann Marie Smith, Shandi Beth Strausbaugh, Lesa Taylor
Jackson County
Brian Spires
Lewis County
Kayla Adams, Leigh Ann Bealert, Mark Alexander Blevins, Christopher Ryan Carver, Wanda Sue Caseman, Daelyna Brooke Collins, John Paul Cordle, Kayla Lynn Cropper, Darcy Fryman, Alissa B Hartley, Nicholas Brice Hord, Amanda Marie Jones, Joel Justice, Susan Rae Lanthorn, Hunter Marshall, Kiersten Deondra McCane, Kaylin Danita Mitchell, Nicole Lynn Monroe, Haylea Moore, Chelsea Nelson, Sara N Penrod, Cheyanna Prater, Loriann Rickett, Sage M Roe, Jessica Lauren Rosenberg, Shaylee Nichole Sizemore, Amy Renee Smith, Hopie Jane Sutphin, Randall E Thomas Jr, Alisha Marie Thoroughman, Savannah Rae Tully, Patrick Wayne Tumlin
Madison County
Andrea Rose Louise Dotson
Mason County
Alexis Anne Adams, Nathaniel Estill Allen Adkins, Taylor Elise Allen, Sophia Anne Barrett, Mary Elizabeth Berry, Montana S Black, Audrey Dawn Blythe, Megan R Booker, Steven T Bradford, Samantha Lynn Bryant, Hayley Brooke Callaway, Alexyia Cooper, Danielle Marie Cottam, Abigail Larue Darlington, Landon Mackenzie Darnell, Christian Davis, Kimberly Kieper Dean, True Kale Doyle, Heather M Enis, Valerie Lynn Fields, Dawn Floyd, Kelsie Myers Freeman, Kaitlyn Ashley Habermehl, Alexander Hamilton, Erin Nicole Hasler, Hannah Nicole Hay, Danielle Louann Heflin, Alania Henderson, Lyric Shantel Holmes, Krishna Anyee Jones, Morgan Lynn Kegley, Isaac M Kennedy, Clarrissa Dannielle Kiskaden, Paul August Leidich, Taylor Dale Lippert, Kelcie Dawn Love, Richard Alexander Matika, John W McDade III, Jesse Mathew Morgan, Emily R Mullikin, Angel Amador Munoz, Katie Nadler, Travis Joseph Nelson, Katherine Parker, Olivia Grace Pawsat, Taylor Phillips, Nikki Jo Polley, Kenneth Eugene Reed, Zakarius Allen Eugene Richmond, John Noah Sanders, Billie Sneed, Kevin Duane Sparks, Robert Staggs, Brianna N Taylor, Madison Teegarden, Haley Elizabeth Thompson, Victoria Gabrielle Tucker, Tammy Lynn Waits, Deana Y Woosley, Destiny Leighanne Wright
Menifee County
Teddy William Brown, Tammy Marie Bryant, Kelsey Church, Miranda Collinsworth, Tiara L Cox, Morgan Ricole Craft, Kayla Michelle Halsey, Hannah Madison Ingram, Corey Justice, Jaryd Masters, Scotty James Nester, Elizabeth Sue Pugh, Maranda Baily Williams
Montgomery County
Sydney Elizabeth Blake Agee, Wesley Andrew Baker, Keisha Marlene Banks, Cole David Booher, Olivia Gayle Brashear, Honaleigh Storm Campbell, Josh Tyler Carroll, Tiffany Carroll, Joshua Chaffins, Alexander M Clarkson, Timothy Clarkson, Destiny Crouch, Jeremy Chase Darnell, Chloe Faye Deskins, Dalton Duty, Rebakah Rae Goodpaster, Cameron Todd Hall, Casey Algin Hall, Jordan Elizabeth Havens, Kelsey Hayes, Jessica Hesler, Cameron Layne Highley, Sabra Trevera Highley, Destiney Johnson, Maria Elaine Johnson, Corey Lemay, Oddie Little, Megan Lacey Luebke, Amelia Lynne Lybarger, Deziree Skyler Marksberry, Leslie Klay McCarty, Patricia Mcgowan, Sierra Marie McKinney, Kristopher Scott Moore, Larry Gene Moore, Robert Kendall Pallay, Christopher Kevin Price, Macey Allison Reed, Susan Fabiola Reyes, Jeremy Michael Richmond, Michael Conway Rogers III, Miranda Santana, Sheena Sue Shearer, Sean Michael Devon Shelley, Bethany Mickayla Taylor, James Bedford Thomas, William Tufano, Thea Nicole Vance, Brooks A Williams, Havanna Shiann Wright
Morgan County
Gabriel Charles Bailey, Mara Shae Blevins, Keila Ann Combs, Megan Elaine Crowe, Angela Sue Davis, Emily Grace Elam, Amy Lynn Hatton, Kamisha Havens, Westley Wayne Hoskins, James Anthony Lane, Tyler Ryan Lawson, Christopher Kendrick Lindon, Donovan Dale McGraw, Samantha Jean McGraw, Caleb Douglas McKinney, Patricia Lynnette McKinney, Robert Andrew McKinney, Jon Michael Mullins, Cameron Tate Patrick, Kara B Potter, Jackson Lee Scott Ross, Hunter James Utterback, Blake Scott Wireman, Derek Lynn Wireman
Nicholas County
Kaitlyn Bach, Shelby Farrow, Charity Grant, Wheaton Elizabeth Hardwick, Heather Alaina Hynes, Payton Michaela Miller, Jennifer Jo Osborne, James Bruce Ratliff, Robert Eugene Smith, Laura Tolson
Pendleton County
Kaelyn Faye Reynolds, Bradley Lamar Wright
Petersburg City (VA)
Lacrissa Miller, "Petersburg City, VA"
Powell County
Logan Stuart Arvin, Sabrina L Barnett, Madison Brooke Faulkner
Robertson County
Torres Miguel Delgado Torres, Kaylee Layne Evans, Aletha Thomas, Shannon L Tucker
Rowan County
Brooklin Dashawn Adams, Jamie Adkins, Allyah Marie Barker, Marquetta G Biggs, Jordan Rae Bowling, Timothy Dalton Brown, Travis Campbell, Sydnee Payton Cantrell, Brianna Skye Clark, Caitlin Coffey, Johnny Decoursey Collins, Carly Renae Crose, Kinsey S Crouch, Devin Bryce Davidson, Sarah D Dugan, Robert Kent Estes, Wallace Osborne Ewers, Jesse James Fuson, Kenia Yamilet Galindo, Kourtney Marie Gambill, Richard Tyler Gamble, Brady Keith Goodman, Edgar Anthony Tyler Harper, Cody Holbrook, Brendan Jason Johnson, Shaina R Johnson, Dawson Wyatt Kegley, Shawna Kidd, Abigail Brianne Kissick, Christy R Kissick, Brandi R Kline, Karri Jo Leadingham, Dawson Wayne McKenzie, Amy Minor, Mikaela Ann Minor, Desirae Dechelle Moore, Tila C Moore, Kristina S Puckett, Heather Reann Ramey, Hunter Reisenbigler, Dannah Brooke Robirds, Allison Dawn Rowley, Mandy Schlauch, Dowl Ray Slone, Caleb Scott Smith, David Lee Stacy, Devon Michael Stevens, Christina Nacole Stone, Shelby Dawn Thornsberry, Kaylee Anne Carol Wallace Dustin Wright
Scott County
Jennifer Elizabeth Adams, Olivia Mae Burnett, Keegan Shea Farley, Brittany Fraley, Nicholas Allen Morris, Tori Nicole Pack
Wolfe County
Holden River Bates
Woodford County
Mary Robin Hartley