AppHarvest Foundation partners with MCTC to Expand AgTech Education Program
May 9, 2022
by Brady Shultz
The AppHarvest Foundation, committed to addressing food insecurity across Central Appalachia by providing AgTech educational opportunities for students, in conjunction with AppHarvest, Inc. (NASDAQ: APPH, APPHW), a leading AgTech company, public benefit corporation and Certified B Corp building some of the country's largest high-tech indoor farms to grow affordable, nutritious fruits and vegetables at scale while providing good jobs in Appalachia, today announced expansion of its AgTech Education Program with a high-tech classroom farm at Menifee County High School in Frenchburg, Ky. 
Maysville Community and Technical College (MCTC), a two-year degree granting institution serving the needs of communities in the northeastern Kentucky region, is the financial partner for the Menifee County High School container farm.
"Agriculture is part of the core DNA for many Kentuckians.  For our future generations to continue their livelihood in agriculture they must be open to new ways of growing crops of all kinds.  This container farm offers students an insight to growing possibilities for their future.  MCTC Workforce Solutions is excited to be a part of this endeavor," said MCTC Workforce Solutions Director Lenora Kinney.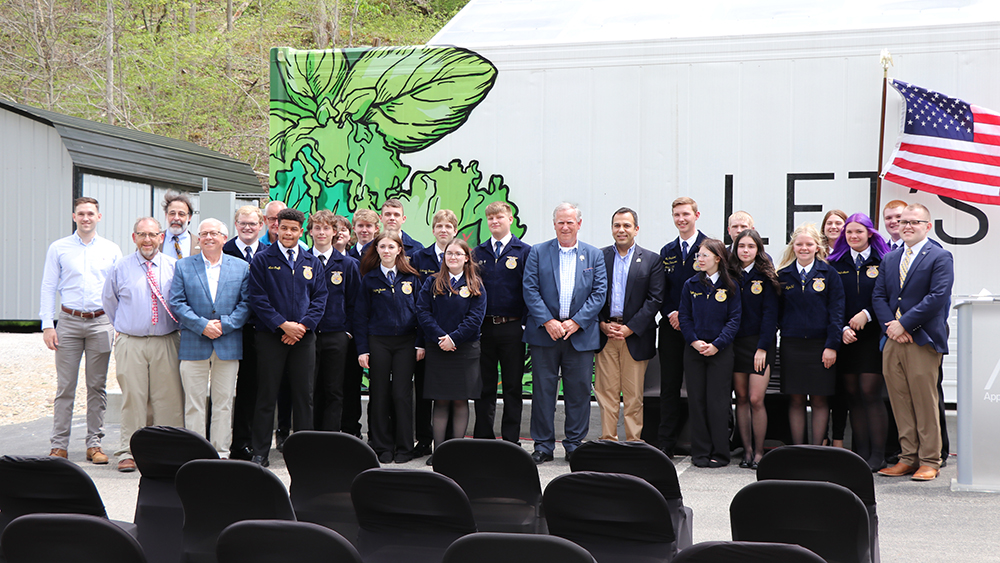 The Menifee County High School farm classroom is about 25 miles away from AppHarvest's flagship 60-acre high-tech farm in Morehead where they produce sustainably grown tomatoes. Three more AppHarvest facilities are expected to be operational by the end of 2022. The 15-acre Berea, Ky., leafy green facility is approximately 79% complete. The 60-acre Richmond, Ky., tomato facility is approximately 75% complete. A 30-acre Somerset, Ky., berry facility is approximately 65% complete. 
"Through our STEM-based AgTech Education Program, we're teaching students how to grow far more food with far fewer resources to feed a growing global population," said AppHarvest Founder & CEO Jonathan Webb. "Five years from now, it'll be leaders from Menifee County High School and other participating schools coming to us with ideas about how we continue to improve agriculture sustainably." 
State Senator Ralph Alvarado, County Judge Executive Rick Stiltner, Russ Ward, interim president of Maysville Community and Technical College, and AppHarvest Founder & CEO Jonathan Webb attended the event to celebrate installation of the hands-on classroom. 
The AppHarvest Foundation AgTech Education Program provides Appalachian schools with shipping containers retrofitted with high-tech equipment to serve as hands-on agricultural classrooms where students grow fresh salad greens to distribute to their classmates and those in need in their communities. 
Since 2018, the AppHarvest Foundation and AppHarvest have opened AgTech classrooms in Central Kentucky at Carter G. Woodson Academy in Lexington and in Eastern Kentucky at Madison Southern High School in Berea; Madison Central High School in Richmond; Breathitt High School in Jackson; Shelby Valley High School in Pikeville; Floyd County School of Innovation in Prestonsburg; Elliott County High School in Sandy Hook; and Rowan County Senior High School in Morehead, the site of AppHarvest's flagship farm. 
The Menifee County High School AgTech classroom is the program's tenth to date, with a goal to launch two more by year end. 
Menifee County High School agricultural teacher and FFA Advisor James Kash will lead activities of the new farm classroom and AgTech curriculum focused on topics such as high-tech hydroponic growing, supply chain and food production analysis, and an introduction to local food systems. 
Student farmers can cultivate up to 5,000 plants at a time using a hydroponic growing system with efficient LED lights and a closed-loop irrigation system that is designed to use up to 90% less water than open-field agriculture without agricultural runoff. 
"The best investment that can be made is our students. Agricultural education provides students with opportunities that students can't find anywhere else. We focus on personal development, leadership potential and learning how to perform real life skills to prepare for a future career. The advent of AgTech Education, in addition to our traditional horticulture program, at Menifee County High School will prepare students for a potential career in an industry that we love that is close to home. We are so thankful for their investment in our students," said Kash. 
About AppHarvest Foundation
The AppHarvest Foundation is committed to addressing food insecurity across Appalachia by providing hands-on AgTech educational opportunities. By introducing AgTech education to youth and adults, we encourage participants to embrace an entrepreneurial mindset to develop sustainable, climate-resilient solutions to ensure food security through engagement with STEM-based programming. The AppHarvest Foundation aims to enhance urban-rural connections, community development and local food systems. For more information, visit www.appharvestfoundation.org.
About Maysville Community &Technical College
Maysville Community and Technical College is a two-year college that has been serving the region since 1968. As part of the Kentucky Community and Technical College System, MCTC provides education and training close to where people live and work. To learn more about the programs of study at MCTC, visit www.maysville.kctcs.edu.