Quality Enhancement Plan (QEP)
MCTC QEP: Let's Solve It: Problem-solving Skills for Life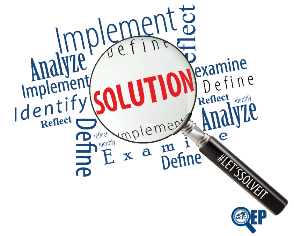 Goal: MCTC will provide the instruction and resources to increase the student capacity for work-place success by improving problem-solving and reasoned decision-making skills.
Who is Involved: We all have a part!
Discuss with students and community members that MCTC is working to prepare stronger graduates who will be stronger employees.
Be positive about our efforts.
Faculty will participate by incorporating problem-solving activities in classes and supporting pre and post testing efforts in key courses—FYE 105, ENG 101, ENG 102, STA 220 and technical program capstone courses.
Student Learning Outcomes:

Assessment:

MCTC students will improve problem solving skills by learning to:

Examine the evidence
Define the problem
Identify strategies
Analyze potential solutions
Implement the solution
Reflect on the outcome

Critical-thinking Assessment Test (CAT)

Pre-test scores reported from ENG 101

Posttest scores reported from:

· ENG 102

· STA 220

· Technical program capstone courses

MCTC students will improve employability skills of students enrolled in FYE 105 and other appropriate classes through improved problem solving skills.

Am I Job Ready – KCTCS Soft Skills program

Scores reported from each module:

Analytical Problem Solving
Coping with Pressure
Initiative
Planning and Organization

MCTC students will increase the capacity for work-place success by improving problem solving and reasoned decision making skills.

Classroom Problem-solving Assignments Results reported in department annual unit plans

Community College Survey of Student Engagement (CCSSE) student responses

Exit survey data—Overall Problem Solving Skill Level

Baseline data collected Fall 2018
Program Outcomes:

Assessment:

MCTC will provide professional development workshops for faculty to implement problem solving strategies.

List provided workshops & attendees

Workshop evaluations

MCTC faculty will document formative assessments of problem-solving activities into the classroom.

Number of faculty who report rubric scores as reported in annual unit plans beginning 2018 – 2019

Number of Unit plans reporting formative assessments of rubric scores and student reports from template.

MCTC will communicate results.

Distribution of annual QEP report.

Results discussed at:

· Faculty and Staff In-service

· Academic unit meetings

· Assessment meetings