Remote Student Services & Resources
MCTC is open during normal business hours (Monday – Friday, 8:00am to 4:30pm) student may still choose to use remote student services and resources. We are here (in person and online!) to help you adapt to changes in instruction and provide services and resources for staying healthy, staying in school and finishing strong! You've got this!
Due to reduced staffing and staggered work schedules, students are strongly encouraged to call ahead and schedule an appointment before coming to campus to ensure availability.
If you have any questions about your classes, please contact your instructor. They are available via phone and email.
For help with Admission, Billing, Blackboard, Financial Aid, Passwords, Records and Registration, call the Go KCTCS! Student Service Center 24/7 at 855-469-6282.
Here is a quick reference guide of frequently called numbers so you can easily contact faculty and staff who are telecommuting at this time: https://maysville.kctcs.edu/covid-19/frequently-called-numbers.aspx
Starting online learning when you haven't used computers a lot can seem like a big challenge. Let this KOOL micro course help make it easier! The self-paced lessons will introduce you to some of the basic skills you will need to be successful, including:
Browsers, Opening New Tabs and Basic Functions
Types of Files, File Management and Downloading/Uploading
Speakers and Microphone Settings in Windows 10
Taking Screenshots
Click here to get started: KOOL Micro Course: Foundational Computer Skills for Online Learning
It is important to take care of your mental health during the COVID-19 (Coronavirus) outbreak. Daily exposure to news about COVID-19 (Coronavirus) may result in a range of responses and some days could be rougher than others. If you have any concerns about your mental health or emotional well-being, please seek support.
To be connected with one MCTC's counseling partners, please contact Teresa Conway at 606-759-7141 ext. 66319 or via email at teresa.conway@kctcs.edu. All services are confidential.
You can now access
Tutor.com
24/7 through your online MCTC classes. Depending on which version of Blackboard your instructor is using, you will find the link to Tutor.com in the main navigation bar or inside a content page. If you don't see it, please ask your instructor so they can help. Professional tutors are waiting to help you!
Chat with a live tutor 24/7
Schedule an appointment for specific time
Submit a written essay for review and get feedback within 12 hours
Take practice quizzes.
Here are step-by-steps instructions on how to access Tutor.com in both versions of Blackboard (Please note that most faculty are using Regular Blackboard, not Ultra).
Tutor.com - Regular - Instructions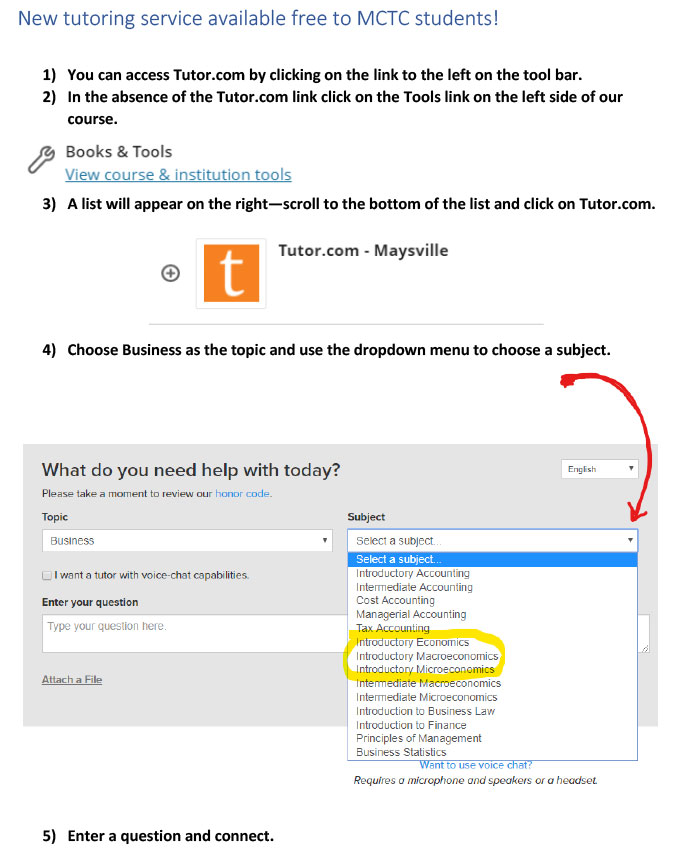 Tutor.com - Ultra- Instructions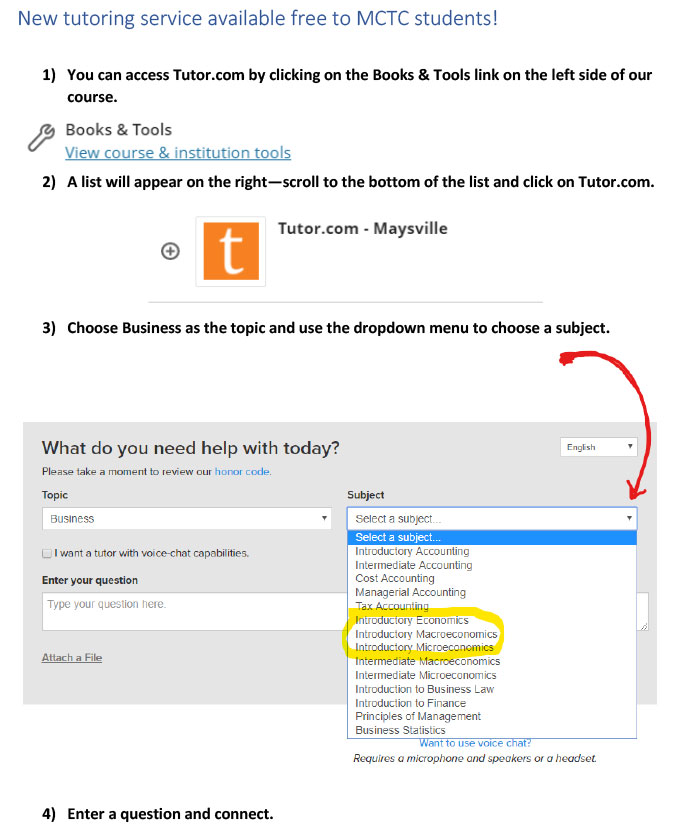 Although MCTC's on-campus Food for Thought Food Pantries are currently closed we are still committed to helping students access food for themselves and their families during this time. If you are in need of food, please contact LeAnn Myrick at 606-759-7141 ext. 66204 or via email at leann.myrick@kctcs.edu. You can also check this page https://go.oncehub.com/mctcstudentfoodpantry to view available days to pick up pre-bagged groceries at the MCTC campus closest to you. Additional pick up days may be added at the beginning of each month.
MCTC Information Technology staff are available to help you troubleshoot problems with your computer, mobile device, Internet access and WiFi. For help, please email the MCTC IT Help Desk at
maysville-helpdesk@kctcs.edu
.
If you have Blackboard questions, please contact your instructor.
MCTC's testing center is currently closed for placement testing and proctored exams. Please contact your instructor if you have questions about a class exam.
Veteran Services will continue to work with our active duty and veteran students to support them and ensure that they continue to receive their educational benefits. If you have questions concerning veteran benefits, please contact Millicent Harding-Thomas, School Certifying Official, at (606) 759-7141 ext. 66196 or via email at millicent.harding@kctcs.edu. For assistance, contact the School Certifying Official.
Millicent Harding-Thomas https://go.oncehub.com/millicenthardingthomas
We understand that now, more than ever, it's critically important for you to have reliable access to the Internet. We are doing the best we can to connect you to the best options in your area and will update this section as new information is released.
WiFi @ MCTC: Students can bring a laptop or other mobile device and access MCTC's WiFi from a parking lot closest our campus buildings.
You might also check with your local cell and internet service providers. Some of them have been offering reduced rates on high speed internet for students during the pandemic.