Email to Print Instructions
How to Print from your Wireless Device
Overview
You can print some documents from your mobile device (smartphone, table, laptop) using your KCTCS Email to submit the print job.
Requirements
Your mobile device must be able to send Email with attachments. It must also receive KCTCS Email that contains a Web link that you must click, which will open a Web browser on your device.
Your device also needs to be connected to the KCTCS Guest or Employee Wireless.
The document(s) you want to print must be in one of the supported file formats: Microsoft Excel, Microsoft PowerPoint, Microsoft Word, PDF, Picture Files
Instructions
For this example, assume that you selected the printer Maysville Ricoh Find Me Printers.
1. In any Email application, compose a new Email:
a. From: yourusername@kctcs.edu (Use your KCTCS account)
b. To: may-emailtoprint@kctcs.edu
c. Subject is not required, but it's a good idea to put a few words of the document name there.
(The Email message body is ignored.)

d. Attach a document file(s) in one of the formats that WebPrint supports:
PDF XPS Word Excel PowerPoint "Picture files"
If you attach multiple documents, all of them will be printed.

e. Remember, the document(s) will be printed using the printer default printing options: color,duplex.
f. Send!

2. Within a minute or so, you'll receive a verification email. Reply Email with a Web link, so click the link.
Your Email to Print job has been received and is being processed. For details please visit this link: https://my-myprint-1:9192/client.
a. This opens the PaperCut "Mobile Client" in your device's Web browser, and is a verification step to prevent spoofing. Just click the button to continue.
b. If you usually see the PaperCut client popup, the Mobile Client will go on and log in with your KCTCS Account.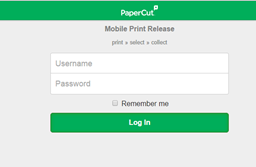 c. The Mobile Client will display a Jobs list showing you the status of the job you just verified.

d. Choose the Sign Out button at the bottom left to exit, then you may close your Web browser.