Project Malaria
5K Run + Walk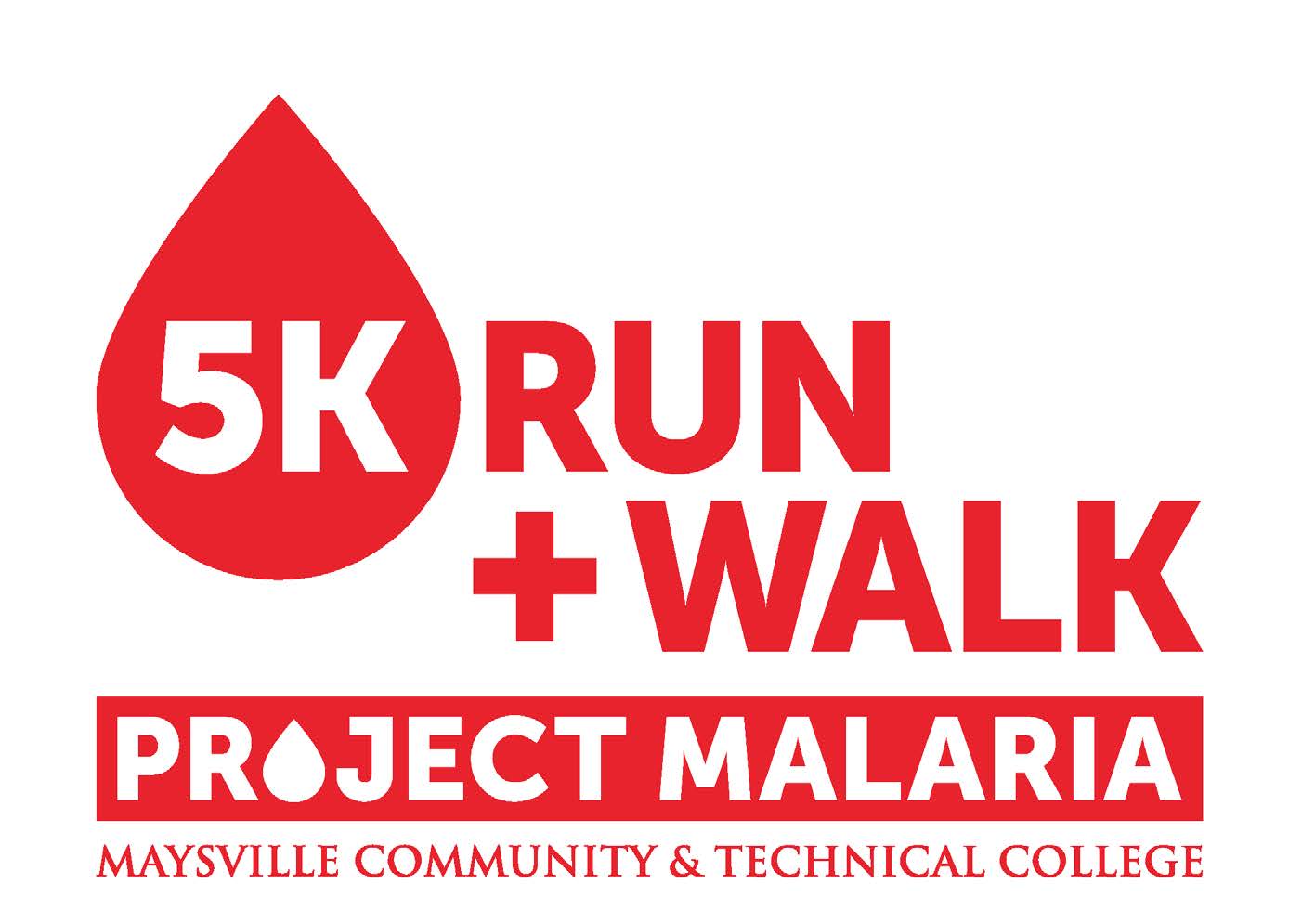 On Saturday, August 10, 2019, Maysville Community and Technical College is sponsoring the Project Malaria 5K Run + Walk to raise money for the treatment and prevention of this deadly disease. All funds raised will go to Kabingo and Bethlehem, Uganda through Comboni Missionaries.
Handmade baskets, made by the women of Kabingo, will be available for sale at the race through the Hope for Kabingo Foundation. Basket sales are cash only.
All ages are welcome! Registration begins at 7:00am, race begins at 8:00am Saturday, August 10th. The entry fee for the race is $15 when pre-registered by August 2, $20 after August 2 and $60 for families of four or more. Those who pre-register before August 4 will be guaranteed a commemorative t-shirt.
Click here to register today!
If you have any questions or comments please contact Keri Teegarden at (606) 759-7141 ext. 66118.
---
5K RUN + WALK WINNERS
MALE DIVISION (WALKERS)
1ST PLACE MALE:
1. Jimmy Lykins
MALE BIRTH TO 10 YEARS OLD
1. Beckham Burton 2. Jackson Burton
MALE 11-19
1. Domyniq Hadden
MALE 60-69
1. Ray Tolle 2. Buzz Auvil
MALE 70 and over
1. Robert Dusseau
FEMALE DIVISION (WALKERS)
1ST PLACE FEMALE OVERALL:
1. Amy Gallenstein
FEMALE BIRTH TO 10 YEARS OLD
1. Mackenzie Laws 2. Frances Burton 3. Monica Are
FEMALE 11-19
1. Kaylee Helbling 2. Emma Gallenstein 3. Ava Burton
FEMALE 20-29
1. Mollie Malone
FEMALE 30-39
1. Kassie Surgent 2. Maggie Price 3. Sarah Parker
FEMALE 40-49
1. Stephanie Schumacher 2. Michelle Riggs 3. Stephanie Berry
FEMALE 50-59
1. Marlene Lykins 2. Stacy Berry 3. Melissa Auvil
FEMALE 60-69
1. Barb Campbell
FEMALE 70 AND OVER
1. Linda Woehr
MALE DIVISION (RUNNERS)
1ST PLACE MALE OVERALL:
1. Michial Svinivasah
MALE 11-19:
1. Isaiah Riggs 2. Nicholas Drury 3. Tyler Thompson
MALE 20-29:
1. Nathaniel Grayson 2. Josh Malott
MALE 30-39:
1. John Bell 2. David Darmitzel 3. Rex Parker
MALE 50-59
1. Terry Young 2. Tom Plelage 3. David Gallenstein
MALE 60-69:
1. Vic Bowman 2. Xandy Stewart 3. Daryl Riggs
MALE 70 AND OVER:
1. Robert Johnson
FEMALE DIVISION (RUNNERS)
1ST PLACE FEMALE OVERALL:
1. Paige Decker
FEMALE 11-19:
1. Elizabeth Lavinder 2. Layla Henderson 3. Alyssa Bisotti
FEMALE 20-29:
1. Julia Swolsky 2. Amrita Srinivasan 3. Kayla Wells
FEMALE 40-49:
1. Renee Faris 2. Rae Roth 3. Becky Wilson
FEMALE 50-59:
1. Sharon Stavinski 2. Sonya Whaley 3. Dorothy Crouch
FEMALE 60-69:
1. Rosemary Evans


ALL RUNNERS: (Names and times)
1. Michael Srinivasin 15:39
2. Isaiah Riggs 16:49
3. Nicholas Drury 17:19
4. John Bell 17:23
5. David Darmitzel 18:08
6. Nathaniel Grayson 18:09
7. Tyler Thompson 18:21
8. Payton Ullery 18:38
9. Paige Decker 18:40
10. Elizabeth Lavinder 19:19
11. Layla Henderson 19:37
12. Benji Hall 19:57
13. Terry Young 20:01
14. Alyssa Bisotti 20:18
15. Cole Wright 20:19
16. Asher Braughton 20:37
17. Vic Bowman 20:42
18. Rex Parker 20:54
19. Julia Swolsky 21:17
20. Joshua Malott 21:23
21. Jansen Biddle 21:34
22. Kylee Howe 21:46
23. Alexis Decker 22:05
24. Kendra Schoemaker 22:44
25. Gabriel Sammons 22:50
26. Amrita Srinivasin 22:54
27. Kayla Wells 22:32
28. Xandey Stewart 25:01
29. Hadley Maher 25:52
30. Plelage 25:53
31. Tiffany White 26:26
32. Molly Parker 26:46
33. Casey Magee 26:53
34. Edward Brannon 28:09
35. Savanna Brumley 28:35
36. Renee Faris 29:39
37. Eian Hadden 29:51
38. David Gallenstein 31:12
39. Sharon Stavisky 31:30
40. Darrell Riggs 31:46
41. Sonya Whaley 33:16
42. Robert Johnson 33:23
43. Ray Roth 34:36
44. Rosemary Evans 34:41
45. Dorothy Crouch 36:31
46. Brenna Wilson 36:54
47. Becky Wilson 36:55
ALL WALKERS (Names and times)
1. Amy Gallenstein 29:07
2. Stephanie Schumacher 29:27
3. Kassie Sergent 29:37
4. Marlene Lykins 30:32
5. Jimmie Lykins 30:33
6. Michelle Riggs 31:08
7. Molly Malone 31:33
8. Barb Campbell 31: 34
9. Ray Tolle 32:15
10. Stephanie Berry 32:24
11. Stacy Berry 32:25
12. Melissa Auvil 32:35
13. Buzz Auvil 32:37
14. Linda Woehr 32:39
15. McKenzie Laws 32:51
16. Kaylee Hebling 32:52
17. Kathy Hebling 32:54
18. Tina Curtis 33:05
19. Magee Price 33:06
20. Frances Burton 33:42
21. Monica Arc 33:44
22. Emma Gallenstein 37:02
23. Robert Dusseau 37:03
24. Beckham Burton 38:16
25. Jackson Burton 38:18
26. Sarah Parker 40:22
27. Dominiq Hadden 40:24
28. Ava Burton 40:46
29. Isabelle Riggs 41:41
30. Natalie Mitchell 41:42
31. Alyssa Purdon 41:43
32. Sophia Mitchell 41:45