Chris Perry to Teach Supervisory Management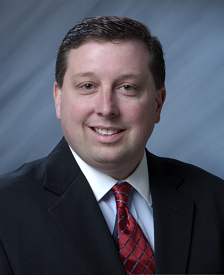 Chris Perry, President and CEO of Fleming-Mason Energy, will teach Supervisory Management at Maysville Community and Technical College this fall. The eight week Tuesday/Thursday evening class will be held from 5:30 8:00 p.m. beginning August 18.

New and experienced supervisors will benefit from taking the class as Mr. Perry draws on his fifteen plus years of experience as a manager and leader. Chris graduated from the University of Kentucky with a BS in Electrical Engineering and is known for his high level of motivation and visionary focus. Prior to coming to Fleming-Mason RECC, Chris worked for Nolin RECC in Elizabethtown, Kentucky.

Supervising is an important subject, because businesses can only succeed with people working together. Managers must learn the skills necessary, not only to supervise, but to lead in such a challenging environment, said Perry about the class.

The course will cover the basic role of the supervisor, human relations skills, communication, managing conflict and change, improving productivity, motivating employees, problem solving, TQM, hiring, and evaluating employees.

I feel that the course is very beneficial to not only new personnel being asked to step up to supervisory positions but also to anyone who may be looking for a way to get back into the classroom environment as it is very low pressure and very interactive, said Mike Sapp of Davis-Elliott Electric and an MCTC student in the program.

The Supervisory Management course is part of a 24 credit hour Supervisory Management Program being offered by MCTC. Students may elect to take one course or the entire certificate program.

I believe anyone wanting to be in management needs a course like the Supervisory Management Program, said Brian Wallingford, MCTC student who works at Emerson Power Transmission. Ive learned a lot so far. Its a valuable program.

For more information or to register for the course, call 606-759-7141 ext. 66120 by Monday, August 17.